Some popular dishes that have got their own day on the calendar.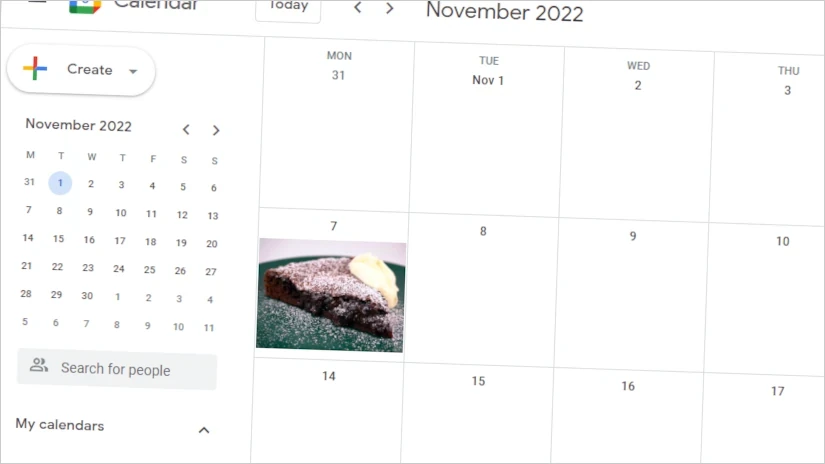 There are many dishes that have become so popular that they have chosen to give it their own day in the calendar. I have made a small selection and linked to recipes or categories of recipes on the site in cases where I have something. This is not a complete list but only contains the days or holidays that I find interesting.
January 1: International Pizza Day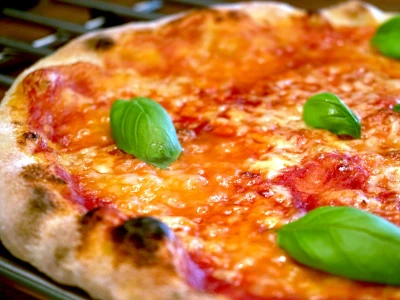 Homemade Neapolitan pizza
After a whole night of New Year's celebrations, there is nothing better than to check out the rerun of Ivanhoe and order pizza.
Should it be more interesting to make pizza yourself, I have some interesting recipes that can be found in the "pizza" category.
January 19: International Popcorn Day
Today they celebrate to draw attention to popcorn in all its forms and flavors.
February 1: Vegetarian Day
On February 1st, it's time to celebrate Vegetarian Day. Although there seems to be information that it is actually on the 1st of October... Well - it is possible to celebrate at least two vegetarian days as anyway.
I have collected some recipes in the "vegetarian category" and more will appear there over time.
February 14: Valentine's Day
Valentine's Day, February 14, is called "all hearts day" in Sweden. It has its origins in the traditions that originated in France around Saint Valentine. The day is also called St. Valentine's Day.
March 1: Pancake Day/Fat Tuesday
Today we have 2 days to celebrate - Pancake Day AND Fat Tuesday (Semmel Day).
Recipes for some simple "semlor" can be found here.
March 14: π-day or pie day
Pie day (or π-day) is also known as Mathematics Day. As one often abbreviates π to 3.14, March/14 is excellent if you start from the American way of writing the date (month / day).
There are many ways to celebrate this day, but baking a pie feels like a given.
March 25: Waffle Day
In Sweden's calendar, this day is called both Marie Annunciation Day and Waffle Day. This was a holiday in Sweden until the 1950s.
I have collected some recipes for waffles in the "waffleday" category that you might find interesting.
April 4: Carrot Day
On this day, the carrot is celebrated and carrot parties and other carrot-related events are held around the world.
Although I have many recipes that contain carrots, I think a good way to celebrate this day would be with a carrot cake - recipe can be found here.
May 5: International Kebab Day
The reason why International Kebab Day is being celebrated today is that Peirao Faraj, who created the Facebook page International Kebab Day, turns this date.
In Sweden we eat lots of kebabs and according to "Aftonbladet", the most popular pizza in 2021 is still kebab pizza. I like to order a good kebab pizza at home, but lately I have started to make it myself as well. Here on the site I have recipes for both kebabpizza and kebabmeat.
May 11: Chokladbollens Day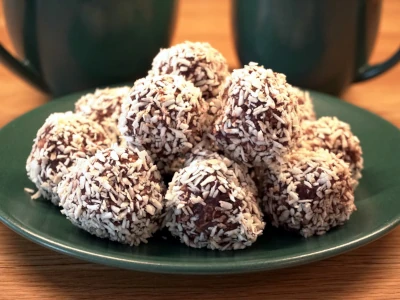 Chokladbollar rolled in coconut
A Swedish classic that has been a part of "fika" for a long time. Easy to make and perfect for getting the kids involved in the cooking.
There are many varieties of chocolate balls, but I have put together a very basic recipe to follow here
May 27: Muffin Day
Muffins originally came to Sweden from England in the 19th century, although that variant was unsweetened. There are lots of flavors and variations.
May 28: Hamburger's Day
The hamburger has been around for a long time, but its popularity increased drastically in Sweden during the 1920s.
This day it may be time to hunt for the perfect burger and here are some recipes which might help.
June 6: Fresh Potato and Herring Day
June 6 is the day of the Swedish flag and Sweden's national day. It is also herring day and fresh potato day.
June 26: Chocolate Pudding Day
Yes - even the chocolate pudding has got its own day..
July 23: Hot dog day
As early as 1871, the first hot dog stand was opened in New York and in 1897, the first hot dog in Sweden was sold.
I have to admit that it was a long time since I ate a hot dog, but growing up I had lots of them.
July 29: Lasagna Day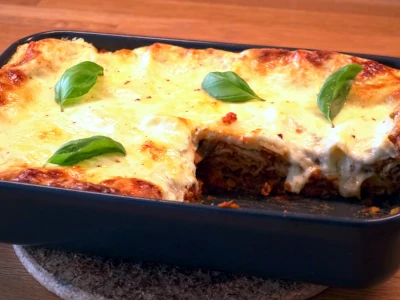 Awesome vegetarian lasagna
The lasagna has also have its own day. Nowadays I usually cook a proper bolognese which I use for my lasagna - it really good when it is allowed to take some time.
Recipes for lasagna can be found here and a really good vegetarian variant with red lentils and mushrooms can be found here.
August 9: Roll cake day
On the 9th of August we celebrate the day of the roll cake. A roll cake is not just a simple pastry - there are lots of variations.
Does budapestrulle count as a roll cake? No idea, but it's good. So here you can find a recipe for one of those. :)
August 23: Meatball Day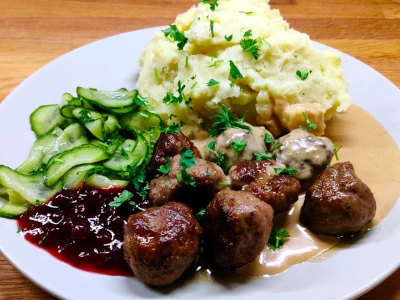 Meatballs with mashed potatoes
Meatballs are classified as Swedish home cooking and can vary somewhat in ingredients between different parts of the country. I have e.g. read that people generally use more pork in the south as opposed to more beef in the north. For my own part, we have for as long as I can remember used minced meat (50% beef, 50% pork) which is very good. We have also used different types of game meat and there are actually very few combinations that do not work.
Why not try a classic Swedish recipe for meatballs with potatoes.
September 11: Kebab Day
Isn't there an International Kebab Day too (May 5)? Yes, but kebabs are good so I have both in this list.
In Sweden we eat lots of kebabs and according to "Aftonbladet", the most popular pizza in 2021 is still kebab pizza. I like to order a good kebab pizza at home, but lately I have started to make it myself as well. Here on the site I have recipes for both kebabpizza and kebabmeat.
September 25: Apple Day
Apple Day appeared for the first time in 2016 in Sweden. The purpose of the day is to increase interest in and knowledge about Swedish apples and the care of fruit trees. The inspiration for this day comes from the UK where the day has been celebrated since 1990.
How about making a simple apple cake / crumble pie or making a fancy dessertpizza applepie?
September 29: Coffee Day
According to the International Coffee Organization, it is an event designed to promote and celebrate coffee as a beverage. This day will also be used to promote fair-trade coffee and to raise awareness of the difficult situation in which coffee growers live.
If you need some recipes for pastries or other things to eat with your coffee, I have a category "fika" that might be interesting to check out.
October 1: Vegetarian World Day
Vegetarian World Day is an international event and theme day that takes place on October 1 every year (or is it February 1?). The day was celebrated for the first time in 1977.
I have collected some recipes in the "vegetarian" category that might be interesting to look through.
October 4: Cinnamon Bun Day and International Taco Day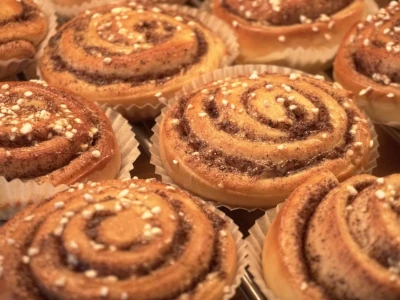 Freshly baked cinnamon buns
When the "hembakningsrådet" turned 40 in 1999, the idea of giving the cinnamon bun its own day was born. This day, we Swedes buy about 7 million cinnamon buns and lots of cinnamon buns are probably baked at home as well.
Of course I have a good recipe for cinnamon buns that you can find here.
October 13: Egg Day
The second Friday in October is Egg Day, which is celebrated all over the world.
I have collected some recipes in the "Egg category" which I think are defined by the fact that they contain egg.
October 25: World Pasta Day
The day was founded in 1995. Pasta is said to have come to Sweden in the 17th century, but did not become popular until the 20th century.
I have collected some recipes in the "pasta" category.
October 26: Potato Day
Today we celebrate Potato Day - an initiative of "potatisakademien". The idea is that the spud should be celebrated when it is harvested and the supply is good throughout the country.
October 31: Halloween
The origin of the Halloween celebration is a Celtic harvest festival that was celebrated on this day. In Sweden, Halloween did not appear as a celebration until the 1960s and then mostly due to influences from American films and TV series.
November 7: Kladdkaka day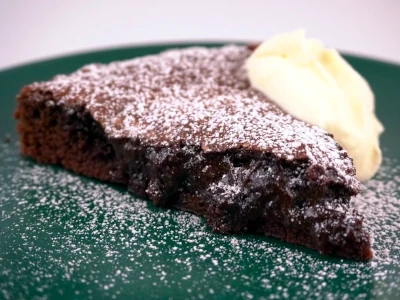 Kladdkaka with cream
There are various theories about how the kladdkaka came to Sweden, but one of the most likely is that the food writer Margareta Wickman, then working at Veckojournalen, ate a sticky chocolate cake at a restaurant in Paris and became very fond of it. She managed to get the recipe from the foreman and it was published in the late 1970s. At first it was called "Mean old man's muffins", but then they made a cake out of it and it was a great success.
A recipe for a classic kladdkaka can be found here and a version with saffron can be found here.
November 10: Mårten's evening - Mårten goose
In Sweden, Mårten is usually celebrated on the evening before the day itself, ie on Mårten's evening on 10 November. November 10 is the birthday of Reformer Martin Luther. He was born on this day in 1483 and got his first name because it was Mårten's Eve, that is, the evening before the then Martin's Day.
November 13: Sandwich cake day
The reason why we celebrate the day of the sandwich cake on the 13th of November is that this is the creator Gunnar Sjödal's birthday.
Here you will find a good recipe for sandwich cake with shrimp, eggs, crayfish and salmon.
December 13: Lussebullens day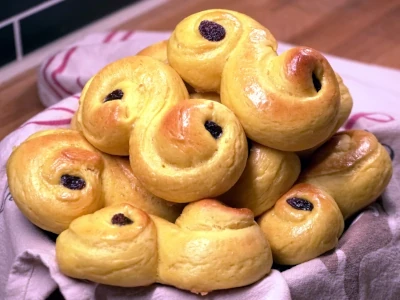 Freshly baked lussebullar
Lussebullar, lussekatter, saffransbröd, lussekusar is a Swedish pastry that is strongly associated with Advent, Lucia and Christmas in general. It is a sweet pastry with a clear yellow color that comes from saffron and is often baked as an "S" to garnish with raisins.
Here you will find a good recipe for lussebullar.
December 24: Christmas Eve
On Christmas Eve we eat lots of goodies. I have a category of christmas recipes